Preschool Ministry
Welcome to St. John's United Methodist Christian Preschool. We focus on faith-based early education to prepare young children for kindergarten by helping them with the skills needed to take them on into adulthood. We teach to the whole child: socially, emotionally, behaviorally, physically, academically, and spiritually.
Please call or stop by for more information and a tour of our facility. Contact our Preschool Director, Amanda Green, at 863-326-1638 or email amanda@sjum.org
Certification
Department of Children & Family
We now accept School Readiness Vouchers through the Early Learning Coalition of Polk County!
Curriculum
"Pinnacle Curriculum"
Based on the works of Piaget, Gardner, and Erikson

Developmentally appropriate activities that adhere to industry standards

Learning objectives to help facilitate learning in all domains

Flexible to accommodate varied learning styles

Themes that capture children's interest

Interactive activities that help children develop a love for learning

Educators
Early Childhood Certified Teachers
Florida early childhood certified VPK instructors
Ages: 6 weeks through Pre - KHours of Operation:
Monday through Friday - 7:00 AM—5:30 PM
Director:
Amanda Green
Phone: 863-326-1638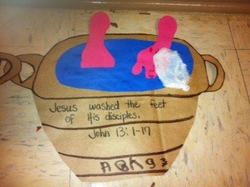 Thank you for your generous donations of snacks and supplies. We love you and want to provide the best early Christian education to southeast Winter Haven. We now have security in place for our preschool children.


---
Tuition schedule for 2016-2017 School Year

Annual Registration Fee: $125 per school year

Infants 6 weeks -1 year: $145 per week

Toddlers 1 year: $140 per week½ day 1s, Tues/Wed/Thurs 9-noon: $95 per week
½ day 1s, Mon-Fri 9-noon: $115 per week

2s: $135 per week
½ day 2s: Tues/Wed/Thurs 9-noon: $85 per week
½ day 2s: Mon-Fri 9-noon: $105 per week


Full day 3s: $120 per week
½ day 3s: Tues/Wed/Thurs 9-noon: $75 per week
½ 3s: Mon-Fri 9-noon: $100 per week

Full day VPK: Mon-Fri with Florida voucher: $106 per week
½ day VPK: Mon-Fri 9-noon with Florida voucher: Free

All students must have current blue and gold immunization and physical forms from the doctor.